Molly Sandén
Category:
Kalmar city festival, Musik & Nöje, Music
Last year, Molly Sandén released his platinum-selling album "Större", which was lined with tribute around Sweden by critics as well as fans.
Although songs about broken hearts are a common theme in pop music, it feels like new ground for Molly Sandén when she now takes the step of writing about heartache in Swedish: "It suddenly becomes naked and honest in a way that it can never really be. languages that are not even mother tongues. The Swedish is much harder to hide in, it is my language - the language I dream of and live in ".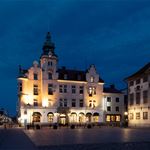 Hotel
Distance: 72 meters
Classic hotel with a genuine atmosphere, centrally located on the main square, "Stortorget".
Hotel
Distance: 140 meters
First Hotel Witt is a centrally located hotel, close to shopping, restaurants and entertainment. A cosy hotel for the whole family.Wake up refreshed and enjoy our wonderful breakfast buffet.
Bed & Breakfast
Distance: 191 meters
Welcome to our Bed and Breakfast in Kalmar's charming center. From our house we have views of Kalmar, port and city gate.