Art galleries in Kalmar
ATELJÉ MATZ NORDELL
Molingatan 7, Kalmar (Old town)
Tel: +46 (0)480-41 11 01, +46 (0)70-525 59 80
Email: [email protected]
Website: www.matznordell.com

GALLERI GÅRDARNA
Hagby, about 20 km south of Kalmar
Tel: +46-480-371 72
Epost: [email protected]
Hemsida: www.enigma.se/gardarna
Info: Open by arrangement. Exhibitions 4 times/year.

GALLERI MONICA STRANDBERG
Slottsvägen 3F, Slottsallén, Kalmar (Old town)
Tel: +46 (0)70-974 77 74
Email: [email protected]
Website: www.gallerimonicastrandberg.se

GALLERI SVALAN
Sparregatan 17, Kalmar
Tel: +46-70-4000854
[email protected]
www.gallerisvalan.se

GÅRDINGER GALLERI
Trädgårdsgatan 18, Kalmar
Tel: +46-480-864 29

KALMAR KONST & RAM
Norra vägen 35, Kalmar
Tel: +46 (0)480-101 58
Website: www.kalmarkonst.se

TEATERGALLERIET
Olof Palmes gata 1, Kalmar
Tel: +46 (0)480-299 01
Email: [email protected]
Website: www.teatergalleriet.se
Show more
Hotel
Distance: 171 meters
Centrally located hotel. Great view over the harbour from most of the rooms. We offer complimentary breakfast and a light evening meal. Coffee, tea and fruit are available 24/7 for all our guests.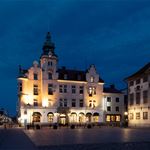 Hotel
Distance: 161 meters
Classic hotel with a genuine atmosphere, centrally located on the main square, "Stortorget".
Hotel
Distance: 189 meters
First Hotel Witt is a centrally located hotel, close to shopping, restaurants and entertainment. A cosy hotel for the whole family.Wake up refreshed and enjoy our wonderful breakfast buffet.